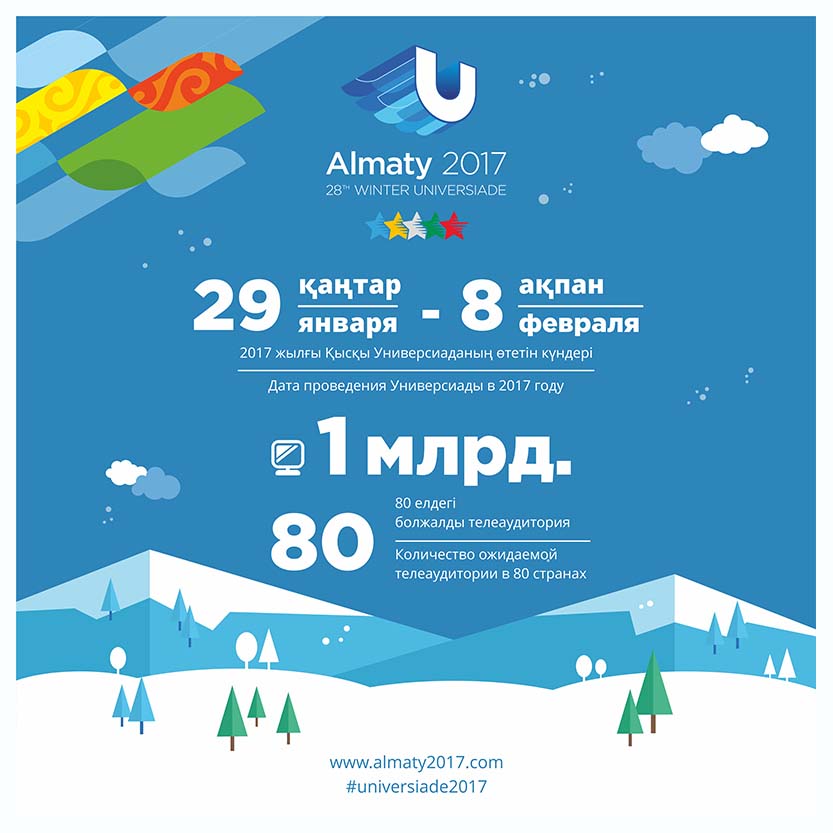 The Universiade – an international multi-sport event which is organised for university athletes – is held under the auspices of the International University Sports Federation (FISU). Students of all levels graduating the year before the Universiade and who are between the ages of 17 and 28 cantake part in the competitions.
Kazakhstan has been participating in theUniversiade since 1993. More than700 participants have attended, with125 medalshaving been won so far.
On November 29, 2011, FISUannounced that Almaty was going to be the city hosting the 28th Winter Universiade in 2017. Kazakhstan is the first among CIS (Commonwealth of Independent States) countries to host the Winter Universiade.
The 2017 Universiade will take place in Almaty from 29 January till 8 February.
The Organising Committee of the 28th Winter Universiade is chaired by the Deputy Prime Minister of the Republic of Kazakhstan, Imangali Tasmagambetov. The Organising Committee controls the implementation of all the necessary arrangements for hosting the Winter Universiade 2017 successfully.
The initiator of the Winter Universiade in Kazakhstan in 2017, being a member of FISU, is the Federation of University Sports of Kazakhstan, which is headed by Professor Kairat Zakiryanov.
The Organizing Directorate for the Winter Universiade 2017 is located in Almaty for the purpose of monitoring the current progress and preparations of the event. The Directorate is headed by Nail Nurov.
More than 2000 athletes from more than55 countries are expected to take part in the Winter Universiade competitions in Almaty. Approximately 3000 volunteerswill be involved, including foreigners and representatives of regions. In addition, over30000 guests and touristsare expected to attend the festivities.